SHIPPING POLICY:
COVID-19 & Shipping Delays: Due to the impact of COVID-19, the increase in online shopping, and the stringent safety protocols put in place by both Canada Vapes and Canada Post, orders may take longer than normal to arrive. Be advised that some regions may see orders take up to four days longer than normal to arrive at their destinations. For more information from Canada Post regarding the delivery of your packages please click HERE. We encourage you to use all posted information to the Canada Vapes Shipping Policy as a guideline. We are doing everything we can to get your orders to you as quickly as possible and we appreciate your patience during this time. If you have any questions our customer service department will continue to be open Monday - Friday 10am – 4:30pm EST. Give us a call at 1-844-286-VAPE.
Orders are picked up daily at 4:30PM EST, Monday to Friday by Canada Post. Canada Post does not pickup or deliver on weekends or statutory holidays. Shipping times may vary depending on location & shipping service. Once your package has left the Canada Vapes Facility and is with Canada Post, you will be sent tracking information with an estimated date of arrival. We make every attempt to ship the same day on orders placed prior to 3:00 PM EST.
Available Shipping Options:
Canada Post Expedited Parcel @ $9.99 Flat Rate (Free on orders over $50*): Expect your package to arrive to you in 2-5 business days if you live in a major city, and 4-7 business days if you live in a more rural area.
Canada Post Xpress Post @ $14.99 Flat Rate ($9.99 on orders over $50): This is a very quick shipping service. Your package will be at your door in 1-2 business days if you live in most major cities across Canada, and 3-5 business days if you live in a rural area.
Canada Post Priority @ $29.99 Flat Rate ($19.99 on orders Over $50): If you absolutely have to have your Vape package as soon as possible. Priority is Canada Post's fastest shipping option with next business day to nearly every major city, and 2-3 business days almost everywhere else.
*Territories and some rural areas do not qualify for free shipping regardless of order size*
NOTICE: The above information are general guidelines and no shipping guarantees are being made outside of the Canada Post's Official Shipping Information Page. Please visit this page to verify all shipping information about these Canada Post services. In rare situations, we reserve the right to request additional payment for Xpress Post or Priority shipping if the shipping cost is significantly higher than the charged amount.
Refunds will not be issued for failed ID checks upon delivery.
Carbon Neutral Shipping: As of August 2023, Canada Vapes has made the conscious choice to now offer Canada Posts' carbon-neutral shipping. You can have faith that your order will be fast, easy and good for the planet. This feature is offered on all domesticated regular and expedited ground shipping services.
CURBSIDE PICK-UP & HOME DELIVERY:
For additional information regarding our local Curbside Pick-up and/or Home Delivery Programs click HERE. Please note that these services are only available in London, Ontario, Canada. Additionally, these programs are subject to change without notice, and are available only within designated times & delivery zones. For the most up-to-date information regarding policies, availability, and limitations please call 1.844.286.VAPE or email support@canadavapes.com.
As Canada Vapes is compliant with guidelines relating to the sale & distribution of goods to customers over the age of 19, first time customers will be required to present valid photo ID upon delivery. In some cases a first time customer may be required to pick up their package at the closest Canada Post Outlet. This is to ensure all customers are 19+ and legally allowed to purchase e-cigarette products in Canada. Once Photo ID has been checked successfully, packages will be sent without this requirement given the name & address on the account do not change. Canada Vapes reserves the right to ID check customers without notice at any time. Packages returned to us due to a Photo ID Check failure will be subject to a $20 Restocking Fee. In addition, all shipping costs will be forfeited (if applicable).
If paying by credit card please ensure the billing address & shipping address is associated with credit card being used as our verification system may flag the order for additional authentication. This may result in additional steps and delay. Additionally, if an order is placed by the cardholder, the billing address and shipping address must match the address authorized on the credit card.
Once a package leaves the Canada Vapes facility and a Canada Post tracking number is provided, the package becomes the responsibility of Canada Post. Delivery errors by Canada Post are entirely beyond the control of Canada Vapes. Automatic Insurance up to $100 is included in the event trackable shipping is used to ship your products. For parcels lost or damaged during the delivery process we advise the following:
Confirm package was not accepted without your knowledge (Family Member, Room Mate, etc.)
Double check to ensure your package has not exceeded the estimated delivery time provided
Contact Canada Vapes Customer Service: 1.844.286.VAPE & support@canadavapes.com
Once an investigation has been started a Canada Post reference number will be provided
Canada Post may reach out to you to discuss the matter via phone or email
Inquiries into missing parcels may take up to 5 business days or more if further investigation is required
Only after an investigation is complete will Canada Vapes consider a reship or refund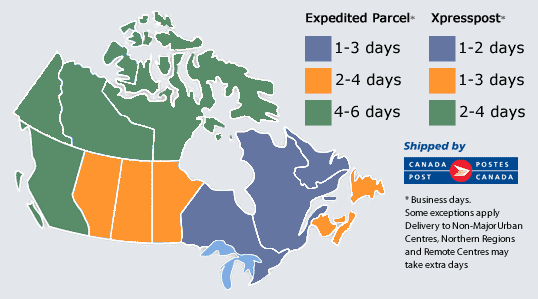 WARRANTY POLICY:
Canada Vapes prides itself on selling quality products we've tested ourselves & operate as advertised. All products that are sold on our website are authentic, however, warranty terms may vary based on product type and nature and/or frequency of use. Customer satisfaction is paramount to Canada Vapes and every effort will be made to quickly & effectively address any product related concerns. We have included informative details below for your review as it is important to understand the warranty prior to purchase.
If you experience any issues with any products you purchase from Canada Vapes please review our extensive knowledge base. If this does not help resolve the matter, please contact our Customer Service Department at 1.844.286.VAPE.
Canada Vapes offers a 60 Day Limited Warranty from date of purchase on the following product categories:
All Starter Kits
Replacement Tanks
All Box Mods
All 18650 Batteries
All 18650 Battery Chargers
Canada Vapes 60 Day Limited Warranty is subject to the terms & conditions outlined below:
Does not apply to cosmetic damage
Does not apply to damage caused by accident, misuse, abuse, user error, or normal wear & tear
Does not apply to products modified or altered
Disposables, Atomizer Tanks, and Coils qualify for a Dead on Arrival (DOA) Warranty only. Due to the nature of the products and their typical life expectancy atomizer tanks, atomizer coils, cartomizers, pods, and cartridges are only covered under the DOA Warranty if they do not work out of the box. If these criteria are met will we replace the item free of charge. Canada Vapes may request the item(s) in question to be returned for testing and/or examination.
Batteries and non-18650 Chargers will only cover defects that arise during the normal use of the product and will not cover any issues that result from improper maintenance/modification, use outside of the products intended use, abuse/misuse, failure due to leaking liquid onto connections, or any battery where basic care has not been taken.
E-Liquid is not covered under any warranty as a result of its consumable nature. Canada Vapes guarantees our e-liquid formulas do not change, and meet established quality standards. If you experience e-liquid that tastes different compared to a previous batch it may be due to one of the following reasons:
E-liquid may need more steeping.  Shake the bottle vigorously & leave in a dark place for 2 days
E-liquid left in the direct heat/sunlight may affect the taste. Especially when it contains nicotine
Changing device types, batteries, or tanks, as each run at a different resistance
Adjust/Lower power range for optimal flavour
If you have recently stopped smoking this can alter/restore taste buds.
All sales are final for the following product categories:
Mouthpieces & Dip Tips
Apparel
Free Canada Vapes Swag
Free Gifts including promotional gifts
DIY Products & Kits
Testing Kits
Clearance Products
Discontinued Products
EXCHANGE & STORE CREDIT, DOA:
Canada Vapes will only exchange or offer store credit in the case of defective merchandise out of the box as outlined in the warranty details above. All applicable warranty claims must be made with 7 calendar days of receiving your order. After the returned product is assessed by Canada Vapes and determined to be defective, we will offer to replace and reship to the customer. Shipping costs will only be refunded (if applicable) if all products in the order are defective.
Submitting a Warranty Claim
Email Canada Vapes Customer Service at support@canadavapes.com within 7 days of receiving your order along with your invoice number, product in question, and a description of the issue.  If available, pictures or videos are often helpful to simplify the claims process.
You may be requested to complete an online form at the representative's discretion.
If applicable, you may be required to mail back the device for assessment & testing.  A prepaid return shipping label will be provided at no cost.
Once received Canada Vapes will conduct appropriate testing to determine the validity of the claim and the most appropriate next step.
Lastly, we will discuss our findings with the customer and work to find satisfactory resolution.
EXCHANGE & REFUND, NEW & UNUSED:
Items that are new, unused, and in their original packaging may be returned, along with the original proof or purchase, within 10 days for a refund or exchange. Returns will only be processed following an inspection by a Canada Vapes representative are verified to be in the condition outlined above. Refunds can only be offered in the original form of payment tendered in the initial transaction. If a refund to the original form of payment tender is not available, an exchange or store credit will be offered.
Requesting a Refund or Store Credit
Email Canada Vapes Customer Service at support@canadavapes.com within 10 days of receiving your order along with your invoice number, the product in question, and the reason for request.
A prepaid return shipping label will be provided at no cost so the product can be returned to Canada Vapes.
Be sure to identify the package with your full name, invoice number, and address information.
Once received, Canada Vapes will conduct an assessment to determine the product is new, unused, and in its original packaging.
Lastly, we will discuss our findings with the customer and process the refund or store credit.  Refunds typically take 2 business days to process once the product has been received by Canada Vapes.  It may also take an additional 5 business days to process the refund depending on your Financial Institution.  Your patience is appreciated.
IMPORTANT:  Products that have been opened and/or used in any capacity will not be refunded.